Please check this page before matches as conditions may change.
Please be advised that tickets purchased for games at Manuka Oval could be subject to cancellation if there is a reduction in capacity due to the evolving COVID-19 Pandemic as stipulated by the ACT Chief Health Officer in the Public Health Order Exemption.
To assist with contact tracing, all patrons are encouraged to install the COVIDSafe App before entering the venue.
In addition to Manuka Oval's usual Conditions of Entry, additional temporary conditions are in place as a result of the current COVID-19 pandemic, for the following matches:
Wednesday 2 December 2020: One Day International – Australia v India
Friday 4 December 2020: T20 International – Australia v India
Friday 11 December 2020: BBL- Melbourne Stars v Brisbane Heat
Saturday 12 December 2020: BBL- Melbourne Stars v Sydney Thunder
Monday 14 December 2020: BBL- Sydney Thunder v Brisbane Heat
Tuesday 22 December 2020: BBL- Sydney Thunder v Perth Scorchers
Saturday 26 December 2020: BBL – Sydney Thunder v Melbourne Renegades
Tuesday 29 December 2020: BBL – Sydney Thunder v Melbourne Stars
---
For these matches, the venue can host up to 65 per cent of the seating capacity, approximately 6,000 spectators.
The capacity restrictions for all corporate areas remain in place.
Practice good hand and respiratory hygiene – wash or sanitise your hands regularly and when you cough/sneeze, cover your mouth and nose with a tissue or your elbow.
For up to date information on COVID-19 in the ACT please visit covid-19.act.gov.au.
For the latest travel advice on entering the ACT please visit here.
For easier access, patrons are asked to enter through the gate provided on their ticket; there will be restrictions in movement around the inner bowl.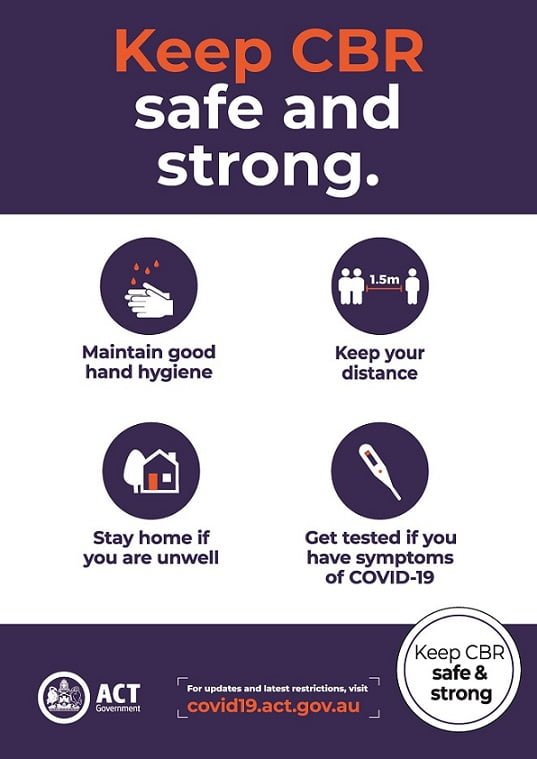 Seating:
All attendees must have a ticket, including babies and children under the age of five;
Patrons will have a ticket for a Bay and Row number and must sit in the designated Bay and Row
Spectators can sit in groups of family and friends, but should sit 1.5 metres away from people or groups they do not know where possible (leave 1-2 seats between your group and the next group).
Return to your seat after a food or bathroom break so queues can be managed in a COVID safe way.
You may be asked to verify your identity against your ticket.
What can't I bring into Manuka Oval?
Any type of bag including a backpack, handbag, camera bag, lunchbox or plastic bags;
Jackets or items of clothing may not be carried into the venue – they must be worn at the time of entry;
Any musical instruments, such as horns, trumpets, vuvuzelas, saxophones, etc, without prior written consent.
Any signage, flags, posters or musical instrument without prior approval; and
Balls of any kind.
Prams.
Kirpans.
What can I bring into Manuka Oval?
You may carry permitted items on you at time of entry either in your hand or pockets.
You may be asked to place any items brought into the venue on an inspection table for verification at time of entry;
You may carry small purses without a shoulder strap; Size restriction of 20cm x 15cm applies.
You may carry individual items of non-commercial food in clear or sealed packaging such as a sandwich, chip packet or muesli bar;
One sealed, non-alcoholic beverage in a plastic bottle and up to 1L in size;
Patrons attending with an infant may bring a large size, clear zip-lock bag into the venue to carry required items such as nappies, wipes and formula. A stroller may also be permitted subject to the venue's standard terms and conditions. Additional items must not be carried in the stroller;
One blanket, however the blanket must be held up at shoulder level from a corner if requested by security;
Corporate Guests:
Corporate guests are subject to the above terms and conditions for entry. In addition to this:
All corporate guests must sign a registration sheet with their name and contact phone number when entering the corporate area; and
The corporate dress code will be applicable;
The corporate areas meet current guidelines of 1:4sqm spacing.
TRANSPORT
Travelling by personal vehicle
Patrons are advised that parking is limited around the venue and should refer to the Parking Map (PDF)
Patrons are reminded to practice physical distancing while attending fixtures at Manuka Oval particularly when entering and exiting the venue.
Travelling by bus
Buses will operate at a reduced capacity in line with current guidelines for public transport;
Patrons are asked to adhere to 1.5m physical distancing when queuing for buses;
During the process of obtaining your access ticket to Manuka Oval via the Ticketek system you may be prompted to indicate if you are intending to travel to the game via Bus. If so, please follow the prompts. This will assist with transport planning;
Please check the transport page on the Manuka Oval website for the final bus schedule.
Travelling by Taxi / Rideshare services
The usual drop off and pick up points for Manuka Oval will apply, these being the corner of Fitzroy St and Empire Circuit or the corner of Furneax Street and Canberra Avenue.
Please adhere to the 1.5m physical distancing when queuing for taxis or rideshare services to and from Manuka Oval.
FREQUENTLY ASKED QUESTIONS
Where can I get tickets to the games? Can I buy tickets at the gate?
Patrons wishing to buy tickets will be able to purchase them via www.cricket.com.au. Please note that due to the current COVID-19 restrictions, there will be a reduced venue capacity at Manuka Oval for cricket fixtures.
The Manuka Oval Box Office will be closed on match day for ticket purchases. There will be staffing in the box office to provide assistance for ticket holders who have issues with their tickets when entering.
Can I sit next to my friends or my family members?
Spectators can sit in groups of family and friends, but should sit 1.5 metres away from people or groups they do not know where possible (leave 1-2 seats between your group and the next group). It is recommended patrons visit  https://www.covid19.act.gov.au prior to attending a match to ensure they are informed of the latest restrictions for attending events.
Can I take transport to Manuka Oval?
Bus services provided by QCity will be available to and from the venue. Information relating to public transport and COVID-19 can be found here: https://www.covid19.act.gov.au/help-and-advice/travelling-and-transport
How do I access my ticket?
Your ticket will be available on Ticketek via Mobile Ticket and also be able to Print-at-home ezyTicket. Please ensure you have your ticket ready to scan as you enter the venue and your phone brightness is at 100%. Also ensure your phone is not on dark mode and the whole QR code is visible on the screen.
Can I give my ticket to someone else?
No – Tickets are strictly non-transferrable. You may be asked to produce your ID to be verified against your ticket.
Should I make any special arrangements before arriving at Manuka Oval?
Arrive as early as possible, as there may be delays upon entering the venue. Always practice safe physical distancing and hygiene practices.
You may be requested to present your belongings to security guards for inspection. No bags are permissible into the venue and all belongings must be kept on you and able to be carried in.
What should I do if I begin to feel unwell?
Stay home if you are unwell or showing symptoms of COVID-19, which include fever, cough, sore throat, shortness of breath and a runny or blocked nose.
Staff, visitors and contractors are not to attend any venue if they:
Have experienced any cold or flu like symptoms in in the last 14 days (in particular fever, respiratory illness, difficulty breathing, sore throat).
Have returned from overseas in the last 14 days.
Have had close contact with or cared for someone with COVID-19 within the last 14 days.
Have been in close contact with anyone who has returned from overseas in the last 14 days.
Patrons are asked to apply COVID-19 recommended hygiene procedures at all times whilst in attendance at the venue – information to be found at: https://www.covid19.act.gov.au/. On match day, patrons who are feeling unwell should notify a customer service attendant or first aid officer on site immediately to ask for assistance.
What do I do if I begin to feel unwell after the game?
Seek medical advice immediately and get tested as soon as possible.
What can I bring into Manuka Oval?
Full details of Conditions of Entry will be communicated to ticketholders directly by Cricket Australia or via Ticketek, including the additional temporary conditions of entry relating to these matches due to COVID-19.
No signs will be permitted unless otherwise authorised by Manuka Oval.
All blankets must be able to be held up for inspection.
Are bags allowed into Manuka Oval?
Bags are not permissible currently, all items brought in must be able to be carried by hand or in your worn clothing.
Can I be dropped off and picked up at Manuka Oval?
Regular gameday drop-off/collection points will be in place on the corner of Empire Circuit and Manuka Circle, as well as the corner of Furneaux St and Canberra Ave.
What are the gate opening times?
Please refer to www.cricket.com.au for details on gate open times. It should be noted that there will be no player greetings available. Patrons will be instructed to leave immediately after the match concludes.
Will there be food outlets open for service?
Select food and beverage outlets will be open. Please always practice physical distancing and be courteous to fellow attendees and follow direction from all staff.
Avoid large crowds during the innings break, time your food or drink purchases for periods when there are fewer people queued.
A limited food and beverage menu will be available including gluten free and vegetarian options.
Beer is limited to mid strength only.
Please return to your seat after purchasing food or beverages.
Corporate Guests
In addition to the FAQs, please read the corporate FAQs if you are a nominated hospitality ticket holder.
How do I enter the venue?
Corporate guests are required to enter the venue via the turnstiles at the Main Gate. Patrons are advised to enter the gate that is stated on their ticket, these being the eastern or western entrances.
How do I access my ticket?
Ticketing and event information for matches will be sent to you directly by Cricket Australia's Hospitality team.
Can I give my ticket to someone else for hospitality?
Only nominated attendees will be permitted to enter the venue and access hospitality. If this person cannot attend the game, the ticket is non-transferrable.
What food and beverage service can I expect?
Due to restrictions on the provision of food and drinks, guests will be provided individual meals. Drinks will also be served using a contactless service option.