Events
Travelling to Manuka Oval
TRAVEL BY BUS
Travel on ALL Transport Canberra services is FREE on game day to holders of a game ticket.
Have your game day ticket ready to present if requested by a bus driver or light rail Customer Service Officer. To plan your trip, type in Manuka Oval as your destination in the Transport Canberra journey planner: https://www.transport.act.gov.au/. You can use your entry ticket for your free return trip after the game.
Passengers are encouraged to take advantage of Park & Ride facilities where possible.
TRAVEL BY CAR
Patrons are reminded not to leave valuables in their cars as they are responsible for the security of their own vehicles. Please note that parking on verges and footpaths is not permitted and may result in a fine.
The maps below provide the recommended driving routes for entry to Manuka Oval car parks, depending on which car park you wish to park at.  In addition, the ACT Government is trialing the ParkCBR smart phone application that will assist you in parking within the Manuka Shopping area. 
The Parking Map is available here
The Relaxed Time Restrictions Area is available here
MAJOR EVENT PARKING
General Parking is available at Kingston & Manuka Shopping Centres, Kingston Oval and surrounding streets.  Please refer to the seating plan to see which entrance would be most convenient to gain access to your seats.
DISABILITY PARKING
Disability parking is between Manuka Pool and the Manuka Arts Centre. Vehicles must display authorised permits.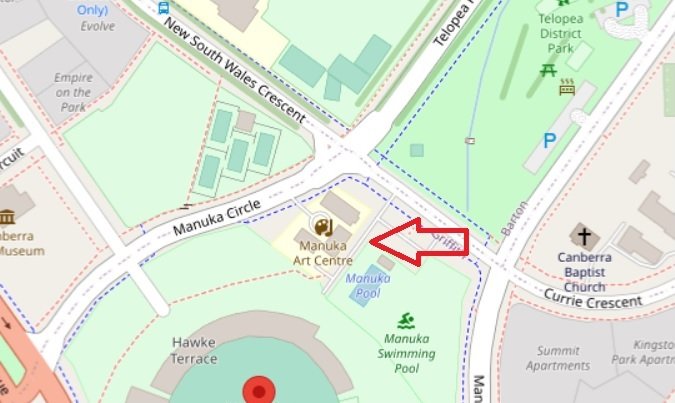 EASTERN CAR PARK
This is for authorised or accreditation holders only.
EVENT DAY ROAD CLOSURES
Temporary traffic management arrangements are applicable to all match days. Local residents are issued with resident vehicle passes for use during the AFL and cricket season, which should be displayed on car dashboards for access through these closures.
Access during the temporary closure of Manuka Circle is from Fitzroy Street, at the intersection of Empire Circuit.
If you have any queries, require additional passes or report issues during the event please contact us via Access Canberra on 13 22 81.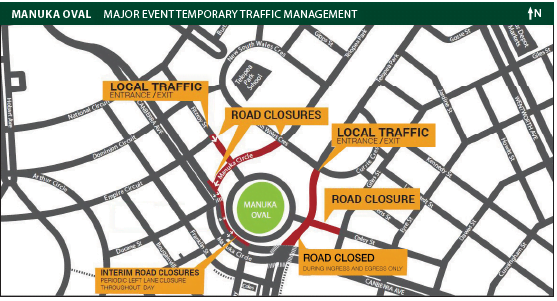 Display Road Closure Map (image)
CHARTERED COACHES
If travelling to Manuka Oval by chartered coach you are permitted to drop off your patrons at the Main or East Gate Drive.  There is no allocated coach parking available at the venue.
TAXI
Taxis are permitted to drop-off patrons at either the East or Main gate drives but would recommend dropping off at the Manuka Shopping centre then use the pedestrian traffic lights to cross Canberra Avenue
Taxis are available at the conclusion of the event from the Manuka Oval Shopping Centre Taxi Rank.
RIDE SHARE SERVICES
Ride Share Services are able to drop-off and/or pick-up patrons at 2 Community Drop areas.  These being either the corner of Fitzroy St and Empire Circuit or the corner of Furneax St and Canberra Ave
BICYCLE AND WALKING PATHS
There are a number of paths available for use for entry and departure from Manuka Oval.  Please note that there is a bike rack outside both the East & Main gates but no bikes are permitted inside the venue.  You must also provide your own lock and the venue takes no responsibility for your bikes security.