Events
Manuka Oval is located at Manuka Circle, Griffith ACT 2603.
Location Map
Catering Available
There is a variety of food and beverage options available from bar and food outlets in public areas.  There are also hospitality offerings including exclusive dining, open boxes and catered seats as well as lounge and cocktail functions.
Facilities
No ATMs available
Lost Property
To claim lost property please contact Manuka Oval management or call 02 6256 6700.
First Aid
First Aid is located at the South End of the Hawke Terrace Stand. Alternatively, you can contact any customer service or security guard if first aid is required and a team will be sent.
Family Information
Baby Change Facilities
Please ask ushers or security staff for the location of the baby change facilities.
Lost Children
In the case of a lost child, please make contact with the nearest security guard or Police officer.
Prams/Strollers
Prams and strollers are permitted into the venue, however must be positioned in a way which doesn't block aisles, seating or egress.
Conditions of Entry
This page contains FAQs and the Conditions of Entry
Smoke Free
Manuka Oval is SMOKE-FREE for all Major Events at the venue. The changes mean smoking is PROHIBITED within the entire venue with designated smoking areas outside of each entry point:
For Local Sport, other events and functions designated smoking areas will be assigned to ensure the comfort and safety of our patrons.
No-Smoking will be monitored and enforced by Event Staff, Customer Service and Event Security.
Patrons who light up within the venue will be asked to extinguish their cigarettes and given a warning. Patrons that do not comply maybe removed from the venue.
How will Manuka Oval patrons be informed of the Smoke Free Venue?
Manuka Oval will display signage advising patrons and Smoke-Free messages will be actively advertised by the ground announcer and through audio- visual messages. In addition, Manuka Oval Staff, Customer Service & Security will advise patrons of the No Smoking restrictions.
What happens if a patron refuses to comply with the restrictions?
Patrons who light up within the venue during major events will be asked to extinguish their cigarettes and given a warning. Patrons that do not comply shall be removed from the venue.
Who will enforce the ban?
Venue, Customer Service and Security Staff have the authority to remove patrons and prohibit entry if patrons refuse to comply with the Smoke- Free restrictions.
Where can I smoke?
Smoking is only permitted outside of the venue during major events within the designated smoking areas.
Thank you for your co- operation
Seating at Manuka Oval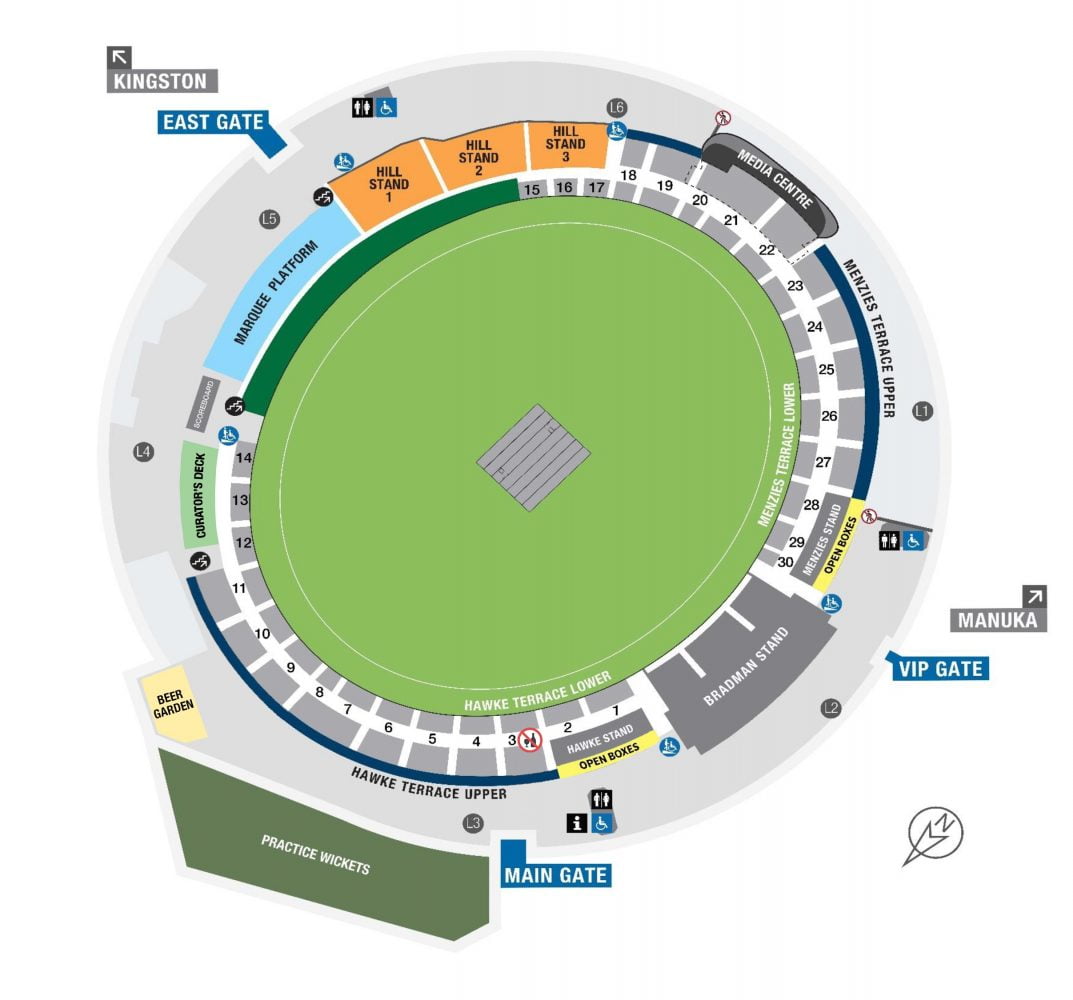 Accessible Tickets
If you have wheelchair or special needs seating requirements and have not already made arrangements when booking please contact Ticketek's Accessible Seating Hotline on 1300 665 915, or submit a request via the Accessible Seating booking form.
Pass outs
Pass outs are permitted but you must ensure that you either have your ticket scanned out or a pass out issued. Failure to do so will result in you not being able to re-enter the venue.
WHEELCHAIR Accessibility
When inside the venue, please see a customer service representative if you require further assistance. Wheelchair accessible reserved seats and lift access is available in the Bradman Stand.  Seating in the outer ground is on the Concourse level only.